On February 3, 2009 Mr. K, the Kids, and I took the hotel shuttle to Baltimore Washington Airport (BWI). We had a few minutes of confusion at the check-in counter because Mr. K was on leave and the Kids and I are not on official orders at this time. We sailed through security with ease even though I forgot to take our baggies with liquids out of the suitcase. What a hassle to take of shoes!
Once we found the gate I went back for food. I had thought there was a Starbucks nearby but in fact it was pre-security which meant it was at that point off limits. Instead we had juice and coffee from McDonald's and sweet buns from another place. The Kids didn't mind waiting for the plane.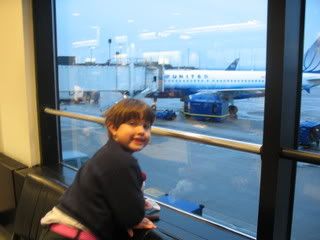 The flight was horrible for one major reason ... six hours trapped on the plane with not even a free pack of pretzels! Thankfully Mr. K's seatmate gave us a bag of really fresh carrots that we all enjoyed and I had snacks packed. There was drink service once and water service once as well. Mr. K watched the movie
Flash of Genius
which he gave a thumb's up for. Izzy just liked playing with the headphones.
When we took off from BWI it was snowing but all was sunny and warm in San Francisco.