On February 1, 2009 we left the small town in Virginia that the Kids and I had called home for nearly two years and drove to the
Sheraton
. Mr. K thought we were lost for the last fifteen minutes of the drive but we eventually found the hotel. It is a very nice hotel. I got a great deal from
Priceline
which was the only reason we were able to afford such a swanky place. However, we only later learned that nothing comes without a price. $1.50 for local calls, $9 a day for the internet, $11 for the breakfast buffet. We are used to places like
Holiday Inn Express
where everything is free and the setup is still nice. At the Sheraton there wasn't even a microwave or mini fridge. I guess most people who can afford to stay in a four star hotel can afford room service too.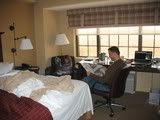 On February 2 Mr. K took the van to the shipping service and I tried to take the Kids to the pool but it was closed for cleaning. When Mr. K got back D and I went to swim at the
Westin
next door and I was immediately reminded of a story I once heard on NPR of a family who having been upgraded to business class was very happy with their ice cream sundaes until they noticed that first class was being served banana splits. The Westin had a bigger pool, nicer lounge chairs, and even a cuter life guard.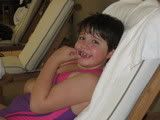 It was a great experience overall and I will remember all of this next time I need to book a hotel.