**Please note my pictures are not great because it was raining during the entire trip. However the links I've provided have fantastic clear pictures.**
Saturday June 20 I went on a USO tour to the
Korean Demilitarized Zone
known locally as the DMZ. It took approximately two hours by bus to arrive at
Camp Bonifas
and then a short wait for our soldier/tour guide. Once on post we were transferred to a second bus and taken for a briefing.
I was quite excited to get my own little UN visitors badge if only for a few hours.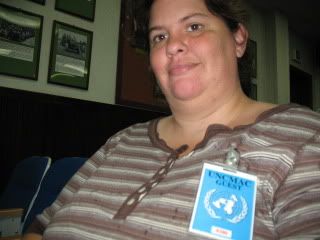 Flags of countries who have sent help with to South Korea in either the
Korean War
or to maintain the DMZ.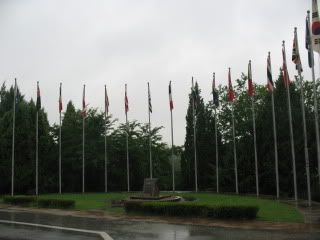 We were next taken over through the fence and to the midline of the DMZ were negotiations are held. The building we were escorted through was originally meant for visits between family members but this sadly hasn't happened so far. On the other side of that building lay the actual midline, buildings that house the neutral nations delegations and then North Korea.
North Korean soldier watching us through binoculars.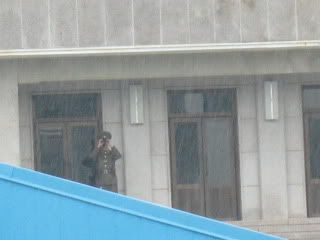 Some of the ROK (Republic of Korea) soldiers that patrol this area. The blue building is the main negotiating building and were we were taken next.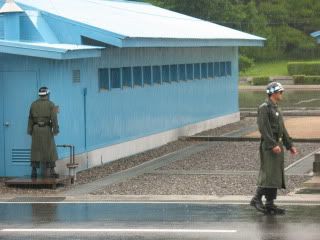 Negotiating table with microphones that are monitored by both sides 24 hours a day. Both North and South Koreans can bring visitors into this building. Our tour guide/soldier is standing on the midline with a ROK soldier.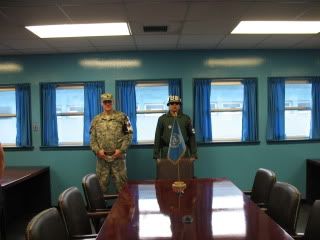 Exact midline. To the right is South Korea, to the left is North Korea.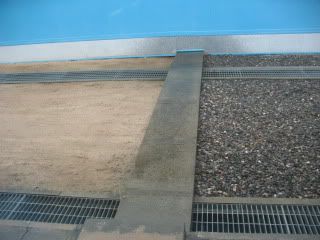 Here I am quite chuffed to be standing in North Korea. We were not allowed to pass this soldier or touch him.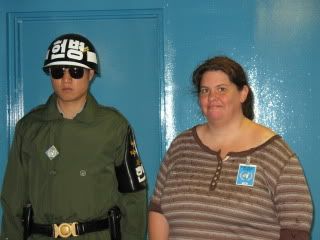 According to our tour guide/soldier these flags were placed under glass after an incident when a North Korean soldier came into the room and plucked the UN flag from it's stand and began to wipe his boots with it. Then he took the American flag and blew his nose with it trying to provoke a response as the room is also being filmed at all times.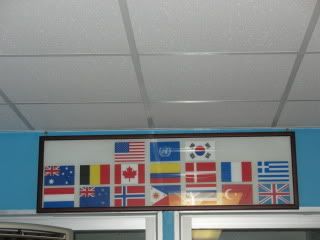 One of the largest flags in the world. It stands in the North Korean village of
Kijong-dong
within the DMZ area. It is thought that no one lives in the village at this time.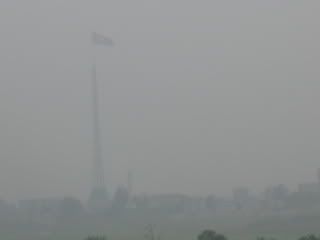 Third observation post. At this point I am surrounded on three sides by North Korea.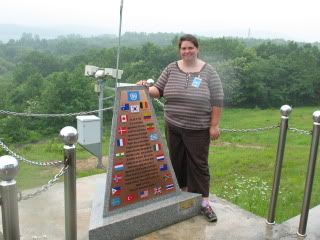 Monument for the
Axe Murder Incident
Camp Bonifas is named for one of the men killed during this gruesome attack.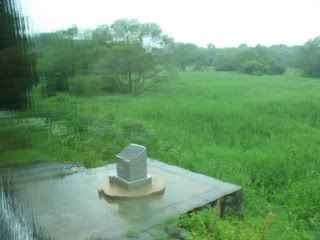 Bridge of No Return
were prisoners of war were exchanged.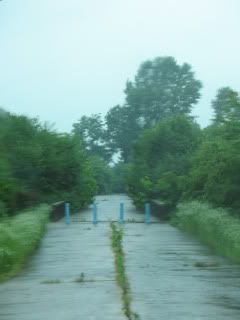 This rice was grown in
Taeseong-dong
the South Korean counterpart to Kijong-dong. The people of this village receive many benefits but are also under tight restrictions.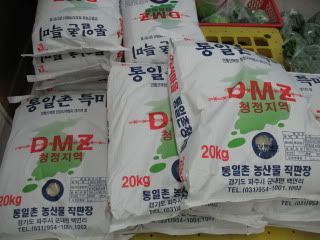 Care for a snack?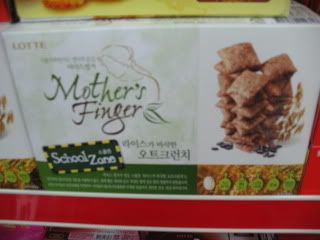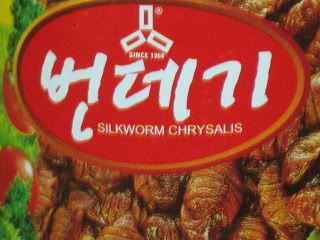 After lunch (I packed a picnic for myself but had to eat on the bus due to the rain) we were taken to the
Third Infiltration Tunnel
It was a very steep walk down but interesting. Unfortunately we were not allowed to take in cameras. I also thought I'd never make it back out.
This sculpture represents the hope for a reunited Korea and peace in the world and stands outside the tunnel facility.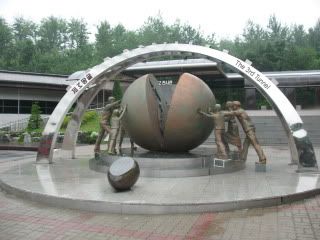 Finally we were taken to the Dora Observation Post but we weren't allowed to take photos there and I can't find much about it online.