Yesterday my friend Kristy and I went to Dongdaemun in Seoul for retail therapy. We had so much fun and realized we may never see everything there is in that huge complex of buildings.
Here is my haul.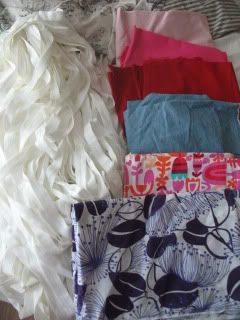 An insane amount of white FOE (for swimsuits)
Solid quilters cotton
Lightweight Denim with anchors for next 4th of July
Fun print
Nightgown fabric for me
Solid color bias tape 50 yards a pack
Floral bias tape 25 yard pack
Light blue serger thread
Belt webbing (Izzy needs belts badly)
D-Rings
Velvet ribbon in 2 widths
Grosgrain ribbon (my local has some matching fabric!)
After shopping for four straight hours we went to a Chinese-American restaurant called "Ho Lee Chow". It was yummy! We shared General Tso's Chicken and Orange Beef. We also had shrimp spring rolls, white rice and coke. I didn't take my camera so no pictures unfortunately. It really is so very American of me to come all this way and crave American foods but I have been trying to like the Korean-Chinese food I promise!
Lastly just a cute picture of my budding fashion designer. She also put mittens on her feet and wears layers of clothing.